Make Your Wedding Uniquely Yours!
We take the utmost pride in each and every wedding booked through Jin Valley Productions. When you hire our company you are not hiring a DJ, you are hiring an experience. We pride ourselves in creating what we call "Awe Moments," the moments that tug on your heartstrings and make you say "awe."
As one of the most important day's of your life, we want to ensure that your mind is set as ease so that you can have fun with your guests, enjoy your day, and not worry about a timeline of events. Our priority is not only with you, but with the family and friends who came out to celebrate with you. We view it as our job to bring the party, the laughs, the dancing, and keep the day flowing so that everyone is having fun. We want you to expect a performance, not just a play button.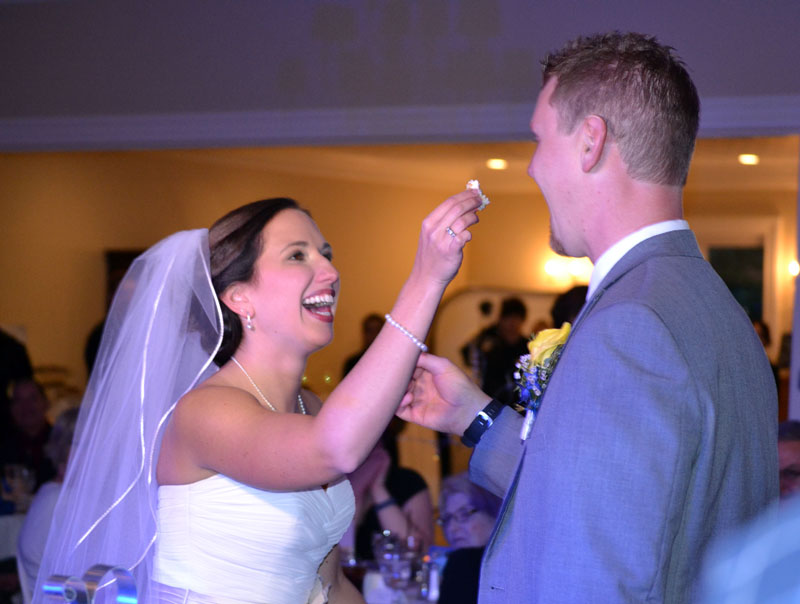 ---
For most events, it all starts and stops with sound. If you don't have quality sound your guests won't get the chance to be engaged. At Jin Valley Productions we bring top quality, professional equipment to every wedding, and use our expert sound engineering skills to fill the room with the correct amount of music for your entire day. We pride ourselves on making sure that the volume is never too loud for conversations, but when it comes time to dance you feel every hit of the bass.
Equipment & Brands We Use in our Productions
Bose® L1® 1S Loud Speaker System with B2 Bass Module
QSC K8 Powered Loud Speakers
QSC KW181 Subwoofer
Beheringer Mixing Boards
2 HP Laptops for Lighting & Sound Design
Sony Vaio Laptop for Graphics & Projection
Toshiba Laptops
MSI G-Series Laptop
Numark Mixing Boards
Professional DJ Mixing Programs
Professional Graphic Design & Projection Programs
Full Library of All Genre's of Music including Country, Rock, Oldies, Today's Best Hits & More!
---
Having a voice to carry your day along plays a large role in making your events details and formalities flow smoothly. Our expertise in radio, broadcasting, performance & public speaking help us stand out amongst the voices of the crowd and help guide you and your guests along the perfect path of your choosing. From the start of your reception we convey our energy and excitement to the crowd while introducing you & your bridal party, to softening the room for your sentimental specialty dances, voice inflection is key to taking your guests on the right emotional ride.
Unlike other DJ's our entertainers do not "hide behind a table," we routienely leave our area to engage the crowd for announcements, games, small talk & more. Nor are we afraid to speak on a microphone to keep the crowd engaged when the dancing begins. You can rest assured that we will herald you and your guests professionally and beautifully along the reception of your dream.
We Make All Announcements Including:
Grand Entrance & Introductions
Toasts & Speeches
Time Specific Announcements (Dinner, bar information, etc...)
Specialty Dances
Games & Events
Anniversary Dance
Line Dance Calling
Musical Announcements
Best Wishes
and Anything Else In-between!
---
Uplighting
It's amazing what a little bit of extra light does to a room. Our uplighting allows us to create a special atmosphere in the room using specific colors that match your wedding. We choose what points in the room to light to create the maximum effect during both daylight and night-time hours. Our colors are limited only by what may display best on the walls and ceiling of the room, meaning, we try to match as closely as possible to the colors of either your centerpieces, accent colors, or bridesmaids dresses the choice is yours!
Some features of our Uplighting & Examples
Multiple Points: The size of the room determins heavily how many lights look the best, we have found that at least 10 points of uplighting used around the room and cast upon the ceiling is close to the perfect amount and will never have less than that.
State-of-the-Art Lights: We use only LED Up Lights, not the traditional par-can with gel covering. Our lights do not heat up and there are no dangerious glass bulbs that could break and possibly hurt a guest. LED lights also give off a brighter and more vibrant color tone & can be matched to most any color!
Column, Pin-Spot & Wash Effects are used in our up lighting process. We vary the types of LED lights used and the way they are displayed to fill your room with the ambient light that will set your night a-glow.
No photoshop or trick photography needed! Your room will positively glow in the colors of your choice.
Custom coloum-style up lights set around the room incrementally to create a refined look.
Our lighting experts choose the best spots and effects, most brides don't even choose their own colors and love the surprise of walking into a magical atmosphere.
These "column" spots look great in daylight and wash the wall as soon as the sun goes down.
If it's all the same or an alternating color combination we can fit your needs.
It's your special day, create the image you want to see when you get introduced!
Multiple types of lighting techniques are used to create the perfect atmosphere.
Your room may start off pink, but as the night wears on our custom lights can change the entire mood instantly.
Custom Pin-Spot Uplights standing behind the head table with a blue wash over the ceiling. Also, our custom spotlight stars gobo.
This Halloween wedding used an alternating color pallet washing over the entire ceiling to create their special touch.
No "stock" colors here! We match our lighting as closely to your colors as possible.
We'll light just about anything that we can to create the right mood for you!
Our custom up lighting creates the perfect look for all your moments.
---
Personalized Monogram or Your Name in Lights
Imagine walking into your wedding reception and on the wall, floor, big screen your names as Mr. & Mrs. are large and elegently displayed in light for all of your guests to see. Personalized Monograms are created for you to fit your wedding theme. We display your monogram on as many surfaces as we can, as well as include it in title cards if you wish for slide shows to be shown and on any other screens we have available to us.
Some examples of our Past Monograms
---
Video Projection
Our custom video productions and display will create a beautiful centerpiece for your wedding to add that unique "Awe Moment." Whether it's as simple as displaying your monogram, visualizations to the beat of the music, or something more complex like a slideshow of you and your fiancee during your first dance while guests watch on, we have you covered. We have the ability and the desire to make any magic happen.
---
Photo Booth
Photo Booths can enhance the energy at any wedding. Who doesn't love to have their picture taken with silly props, glasses, and hats? No matter who you are, photo booths are for everyone.
What to Expect:
A Fun, Inviting and Interactive atmosphere
Specialized Printed Background commemorating your wedding day
Silly Props to spice up any picture
HD Display & Camera Preview helping you get the right shot
Instant Prints for everyone in the frame
All your guests telling you how fun it was
---
Dance Choreography
Your first dance as husband and wife is a special moment. It kicks off the the evening and puts the two of you in the spotlight for everyone to watch. Create and "Awe Moment" your guests will remember with a specially choreographed dance to your chosen song or learn a few figures to dance around the floor with more than a sway. Dancing is both fun and romantic; the experience is not only the first dance but learning together for the big day. You will learn how to lead and follow, timing, rhythm, frame, styling, and how to dance as one. Dancing is not only for the bride and groom. We offer lessons for father/daughter, mother/son, and bridal parties.
There are many styles of dance and for wedding couples the dance is generally chosen from the song you choose. The song determines the dance because dance is based off of timing. If your first dance was to Jason Mraz's "I'm Yours", then you would likely dance a Foxtrot. If you want something more upbeat like Bruno Mars' "Marry You", then you could dance a fun swing. The choice is yours and whatever emotion you want to convey.
Variety of Dances
Foxtrot
Waltz
East Coast Swing
Cha Cha
Rumba
And many more...
Group Dances: If you want something extra during your wedding that will keep the guests moving, we can lead group dances during your reception. We can lead line dances and party dances, or give a quick mini lesson of any ballroom dance you choose. This is something unique for the guests to take home with them. We will make sure we encourage everyone to get out on the dance floor and have fun!
---
Vows Go Unbroken
The wonderful memories created on your special day is greatly determined by the quality and expertise of the Emcee/DJ you choose. A wedding reception requires the talent of a DJ that knows and understands musical arrangements as well as makes your grand entrance and presentation as newlyweds to your family and friends a spectacular event. As your DJ's and Entertainment providers, we will guide you through your reception. And, we will not lose sight of your suggestions and directions. From the variety and style of music, the grand introductions of you and your bridal party, cutting the cake, tossing of the garter and bouquet... to all moments of the event.
We at Jin Valley Productions "Vow" to provide you start-to-finish enjoyment! Our enthusiasm, vocal presentation, professional appearance and years of experience ensure you a wonderful first day/evening as "Mr. and Mrs."